Hdmi 1.4 Over Cat5/Cat5e/Cat6 – Which one is possible?
We have taken a lot of questions lately about Hdmi 1.4 over cat5 possibilities. Nowadays, As you know the latest hdmi version 1.4. With this new version, began to new developments in extender technology, especially the new 3d video technology entered into our world. Our home equipments also have a lot of changes. In this context, we should actually look at the performance and parts of physical that interest us.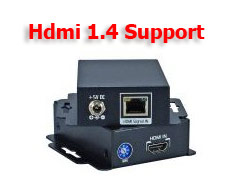 When we look at the explanations made ​​by Hdmi Authority group there is not a change in terms of performance. High Speed ​​HDMI cable's maximum performance is 10.2Gbps in HDMI 1.3 and 1.4 versions.
This is actually a new technology, so new models come to the market quickly, you can see the new hdmi 1.4 extenders by looking at this list.
Hdmi 1.3 vs 1.4 New Features List
Below there is a short summary in the form of new features that come with HDMI 1.4.
HDMI Ethernet Channel – Enables your internet-ready entertainment systems, such as Blu-ray, Satellite, playstation, mobile phone, disc players to share an internet connection without the need for an extra cable.
Audio Return Channel – Allows the HDTV to send back audio data to your Audio receiver, you will not need an extra audio cable.
3D Video – New display formats at up to 1080p resolution
4K Resolution Support – New resolution support 4096×2160 pixels and 3840×2160 pixels
New Color Spaces – sYCC601, Adobe®RGB, and Adobe®YCC601 digital camera color format support added
HDMI Micro Connector (Type D) – Portable device socket for new mobile devices like phone, digital camera.
Automotive Connection System (Type E) – Special hdmi cable and sockets to be used within an automobile.
All other features of HDMI 1.3 version comes with HDMI 1.4.
When we check out the new features that explained above, The HDMI Ethernet Channel feature that supports this functionality will need a completely new cable, either with a standard Ethernet or a High Speed HDMI Cable with Ethernet, based on the highest resolution to be supported. The Automotive Connection System will additionally utilize a new type of cable, the Standard Automotive HDMI cable, which generally is developed mainly for automotive usage. Each of the other new features will be HDMI 1.4 compatible with the existing categories of cables.
Example Hdmi 1.4 Over Cat5 Extender
Is Hdmi 1.4 Over Cat5 Possible?
In our experience cat5/cat5e cable can manage the maximum data transfer up to 1Gb/sn, technically hdmi 1.4 over cat5 is not possible when you consider 3d data. However cat6/cat6a can carry data upto 10gb/sn as like as HDMI 1.4 cable and it seems can support the 3d very easily. If you really have a plan to go for 3d , you should consider to implement at least cat6 cable for your solution.

Conclusion:
If your source device (dvd, satellite, pc or other) supports only hdmi 1.3, you can use it with hdmi 1.4 HDTV.
Search for the targeted features that interest you, instead of shopping for an HDMI version number and supposing that a particular attribute is established.
Because most of the features detailed in the HDMI 1.4 standards are optional implementations, it's the responsibility of the vendor to tell you what features are implemented in any given device.
3D video usually requires extensive data throughput, so you'll require to use a High Speed HDMI cable.
When you purchase a new HDTV do not think you will have all of the hdmi 1.4 features integrated in your TV.
If you have no information about hdmi over cat5 extender and hdmi over cat5 wall plate you should learn more.
Hdmi 1.4 over cat5 is not possible some of hdmi 1.4 features such as 3d but hdmi 1.4 over cat6 is near perfect.