Hdmi Over Cat5 Wall Plate
Hdmi over Cat5/Cat5e/Cat6 wall plate is an alternative solution like Hdmi Over Cat5 Extenders. Lets you have a quick installation experience for hdmi cable expanding. Standard network cables are used to communicate each plate. Normally, hdmi cable's length is limited and can't be used for long hdmi data transmission. So, when we consider this issue, hdmi cables are not suitable and efficient for long distance usage.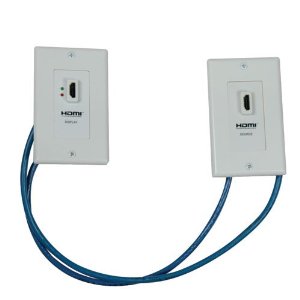 In this solution, network cables quality is really important. Because you will not have a chance to boost the signal if the distance is too long. But, within a supported length and using a quality network cable, it can be used with success. When we check the market we won't see too many models exists, You can check this search results for HDMI Over Cat5 Wall Plate.
It is easy to implement and decorative. Tidy and protect your cables from the damage. It is recommended to use at least cat6 shielded network cable, for problem free installation.
Avoid Installation Issues !
It is really important that you should test and approve the result before installing the cables into the wall. Cat5e cable also can be used in 90 feet with success. Using a shielded network cable will help you to protect from an electrostatic interference. You should also care extra attention when you punch down the wires, wire colors and plate termination.
Cable Quality is important !
In a nutshell, cat6 cables speed is similar the hdmi category 2 cable. Hdmi Category 2 cable's speed is 340Mhz. Cat6 cables speeds are Cat6:250Mhz and Cat6a:500Mhz.

For the best result for your hdmi cat5 wall plate solution , use good quality Cat5e / Cat6 Stp network cable.
If you wonder why we recommend you to use the cat6 network cable, you can read the techniqual details about network cables from the wikipedia.
If your distance is longer than the supported lenght by Hdmi Over Cat5 Wall Plate, you have to use alternative solution that have a booster option like HDMI Over Cat5 Extender device for your project.